Firstly, I'm gonna say Happy Holidays to all you lovely l
adies! Whether it's Christmas, Hanukkah or something else, I hope you have a good one!

As 2008 is drawing to a close, I was thinking about the best lesbian/bisexual news throughout the year. What would be in your list of top 5 lesbian headlines?

How about 'Portia becomes Mrs. DeGeneres?'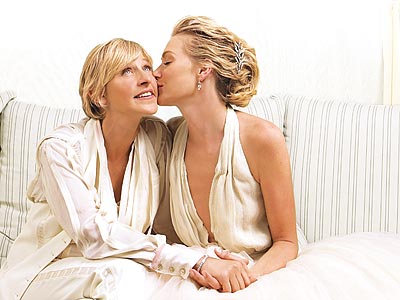 It's great when a lesbian couple are as mainstream as

Ellen DeGeneres

and wife

Portia De Rossi,

but when it is big news that an openly gay couple are getting married, it just makes me feel even more proud to be a raving homosexual.

Contrastingly, amongst your list of biggest gay headlines in 2008 may be the passing of proposition 8 in California; abolishing the rights of marriage to homosexual couples in one of America's biggest states.

However, the passing of this discriminative law is not all bad: it pushed actress and comedian

Wanda Sykes

to officially come out of the closet once and for all.


Since she came out, Wanda ensured the both gay and straight communities that she was 'proud to be a black woman, and proud to be gay.' Recently married in California whilst it was legal, Sykes hated the fact that her rights were being stripped away and she has given many inspirational speeches to gay audiences since.

Talking of being stripped away, take

Grey's Anatomy

. Yes, Grey's Anatomy, which frequently displays gay story-lines and even has a gay actor (

T.R. Knight

) among the cast, recently took away one of the shows best loved characters, Erica Hahn, without so much as a goodbye.



Brooke Smith

(below left, with on-screen lover

Sara Ramirez

, who plays Callie Torres on the show) was fired from Grey's with no explanation, to many lesbians' disappointment. Some people even began petitioning for the return of the couple!


So what do you guys think? What has been the best - and worst - lesbian and bisexual news this year? And do you think next year will be just as action packed?